It is no exaggeration to say that the enamel, so-called the Art of Fire, occupies a huge part of Jewelry history from ancient Egypt to the present. The enamel - its color is deeper than glass and it is complementing the color limits of the metal – had a lot of influence on my jewelry work. When I first learned about the enamel, I made jewelry using various techniques. But especially cloisonné was so fascinating to me because I could visualize the story by using the technique.

However, most people had a prejudice that cloisonné looks old and outdated. I was very sorry for the pessimistic reaction of those who do not know the history and merits of cloisonné. "How can I express my jewelry so that people can approach cloisonné easily?" was the beginning of my work.

The Byzantine-era cloisonné was made in Christian style. Christianity was the daily life of people at the time, and cloisonné, which contains the contents of Christian doctrine, was friendly to people. And it made me think of the motif of everyday life. Daily life is the space where I am now. It is familiar, so I thought it to be a subject that everyone can easily relate to. I thought this empathy could easily explain to people that cloisonné is not old.

I began to observe to express my daily life. At first, I observed from me and my friends to others. I filmed, recorded, and painted people. I wrote about my little daily life, which was nothing special, such as sleepless myself, one of my friends holding back tears, my mother writing a diary, and someone waiting for a friend on the street.

At first, I expressed only the outward appearance. But I wanted to express those feelings in more detail. It is very difficult to express one's feelings via jewelry. The advantage of cloisonné is that it can also express the line in detail. I tried to express things like the looks and language of their fingers with metal lines and capture them on my jewelry as much of the everyday expression and the emotion I could feel in them.

I started working at the height of the line higher than the enamel, hoping that the feeling would become more prominent in the expression of the line. I wanted to express our daily lives and emotions with lines, not just the role of metal lines to divide the color of enamel. So I used simple colors. The line seemed free from enamel.

A daily routine is one in which small pieces are gathered and completed, but it will never be completed. So my jewelry is the most atypical shape. This is because everyday life cannot be defined typically.

I tried to resolve these prejudice by forming a consensus by carving a part of our lives in cloisonné jewelry. Furthermore, I hope that people can look at their daily lives from a different perspective as they pass by casually in a busy modern society while appreciating the jewelry symbolizing their daily lives. I wish they could feel that every single day is full of novelty, though it seems to repeat itself every day.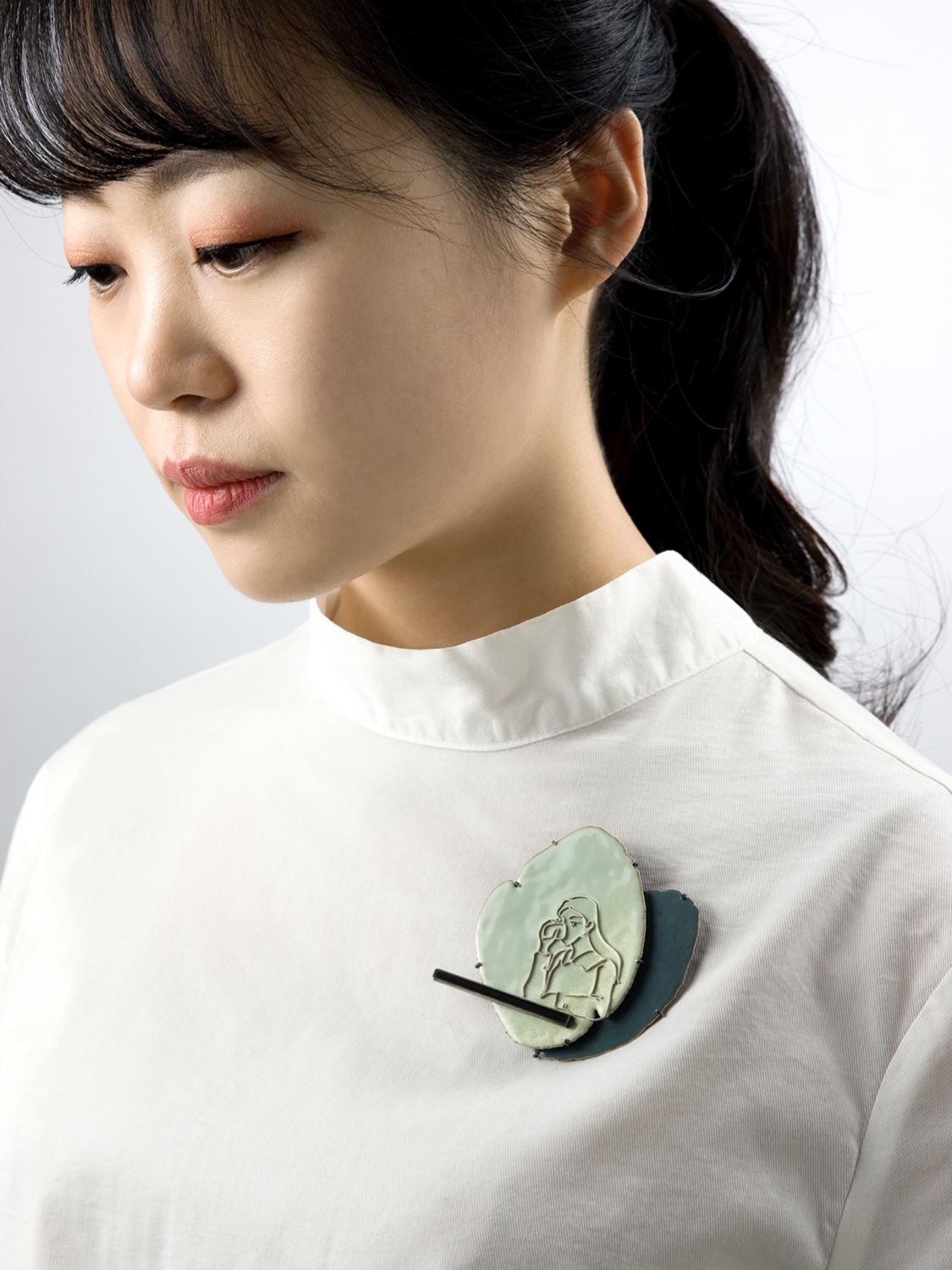 Education
M.F.A. Kookmin University, Seoul, Korea
B.F.A. Wonkwang University, Iksan, Korea
Career
Seoul Art Space_Sindang, Resident artist _ 2020 – 2022
SINAE JEWELRY STUDIO _ 2020 – Present
Wonkwang University, Instructor _ 2018 - 2020
MJC Vocational Training College, Instructor _ August 2010 – Present
Exhibition
2022 Craft Trend Fair <The Enamel>, Coex, Seoul
2022 <One and More> Seoul Art Space_Sindang, Shinsegae L&B, Cociety, Seoul
2022 <Hybrid: CRAFT>, Cociety, Seoul
2022 The 3rd group of metalsmith <Reunion>, KCDF Gallery, Seoul
2021 The 3rd group of metalsmith 'distance', KCDF Gallery, Seoul
2021 <Companion Craft>, Insa-dong KOTE, Seoul
2021 <JOYA Barcelona Art Jewellery&Objects>, Disseny Hub Barcelona, Spain
2021 <Romanian Jewelry Week>, Bucharest, Romania
2021 <LA ART SHOW 2021>, LA Convention Center, Los Angeles, USA
2021 <Now, we craft Kimyo 2021 #3>, Artist Run Space_Kimyo, Seoul
2020 Craft Trend Fair <Cloisonne Jewelry in Daily Life>, COEX, Seoul
2020 <Therapeutic agent>, Insa-dong KOTE, Seoul
2020 <Hello, We>, SASS Gallery, Seoul, Seoul
2020 <Sanwoollim art&craft Young Artist Exhibition>, Sanwoollim art&craft, Seoul
2020 <Friedrich Becker Prize 2020>, Deutsches Goldschmiedehaus Hanau, Germany
2020 <Friedrich Becker Prize 2020>, Stadtmuseum Düsseldorf, Germany
2019 <Collectiva Meeting International Jewellery Exhibition>, Portugal
2019 Craft Week <Atelier Jewelry>, Gallery Sowyen, Seoul
2019 <Spring Butterfly Exhibition>, Gallery Sowyen, Seoul
2017 Solo Exhibition, <Daily Life SINAE×Common>, Seoul
2017 ITAMI International Craft Exhibition, The Museum of Arts & Crafts ITAMI, Japan
2017 <Beijing International Jewelry Art Exhibition>, BIFTPARK, China
2016 Craft Trend Fair <Studio T+D>, COEX, Seoul
2016 <New Breeze>, Bupyenog History Museum, Seoul
2015 Craft Trend Fair <Alchemist, Spring Summer Fall, Winter>, COEX, Seoul
Awards
2019 Winner, Autor Media Award at Collectiva Joalharia de Autor, Portugal
2019 Certificate of Best Goods, International Jewelry Design Contest, South Korea
2017 Selected, ITAMI International Craft Exhibition, The Museum of Arts & Crafts ITAMI, Japan
2015 Designer's Excellence Award, International Jewelry Design Contest, South Korea
2014 Designer's Excellence Award, International Jewelry Design Contest, South Korea
2013 Selected, The 14th Korea Craft Contest, South Korea
2009 The fourth, World Skills Korea (Seoul), South Korea
Publication & Interview
2022 'Chilbo' Korea Craft & Design Resource Book, Korea Craft & Design Foundation, Ministry of Culture, Sports and Tourism

2021 Monthly ESSAY interview 'SINAE BAIK, Metal Craft Artist', South Korea
2021 Art&Design Work&People interview 'SINAE BAIK, Metal Craft Artist', South Korea
2020 Alba Longa Contemporary Jewellery Book, Vienna, Austria
2020 Seoul foundation for arts and culture, Cover story, South Korea
2019 AUTOR Contemporary Jewelry interview 'SINAE, BAIK – Que Sera, Sera.', Bucharest, Romania
2018 Teaching material book 「Life Culture Design」, Wonkwang University, South Korea
2017 Writing a master´s thesis 「Daily life with Cloisonne」, Kookmin University, South Korea
2016 AUTOR Magazine(Contemporary Jewelry Magazine) #3, Bucharest, Romania